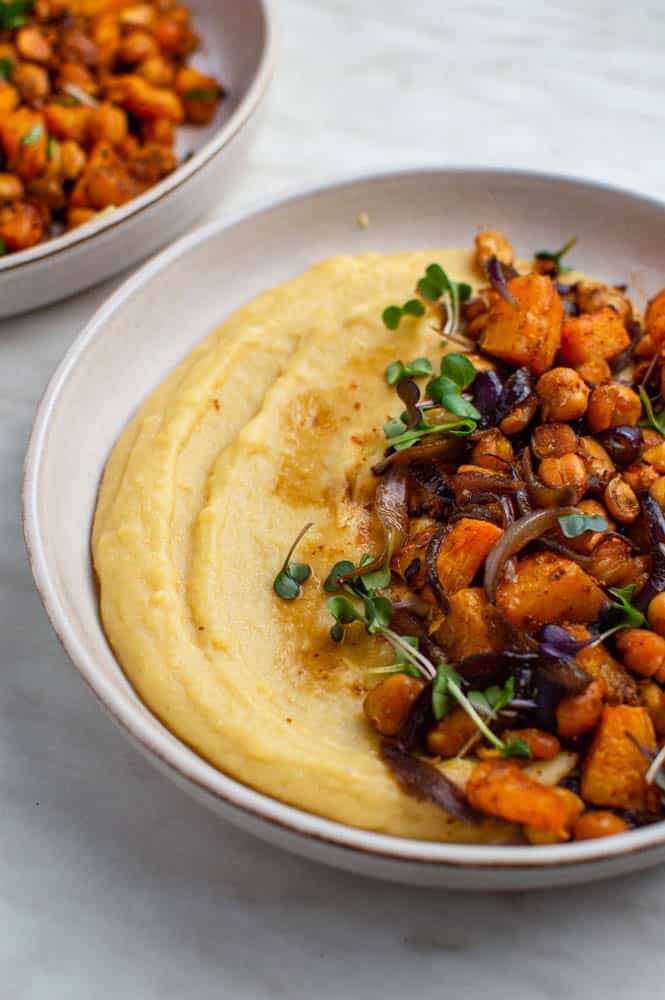 This creamy vegan polenta is the perfect healthy dinner that comes together in less than 30 minutes. It is packed with whole grains, and plant protein, and is gluten-free!
I love polenta because it is so versatile, and this combo is one of my favorites. It is topped with crispy chickpeas, roasted pumpkin, and caramelized red onion. Big flavor!
What is Polenta?
Polenta is an Italian dish made from ground corn, also known as cornmeal. Freshly cooked, polenta is creamy and soft and basically tastes like corn porridge.
However
, the taste is very subtle and a little sweet, which makes it a perfect vessel for fun toppings!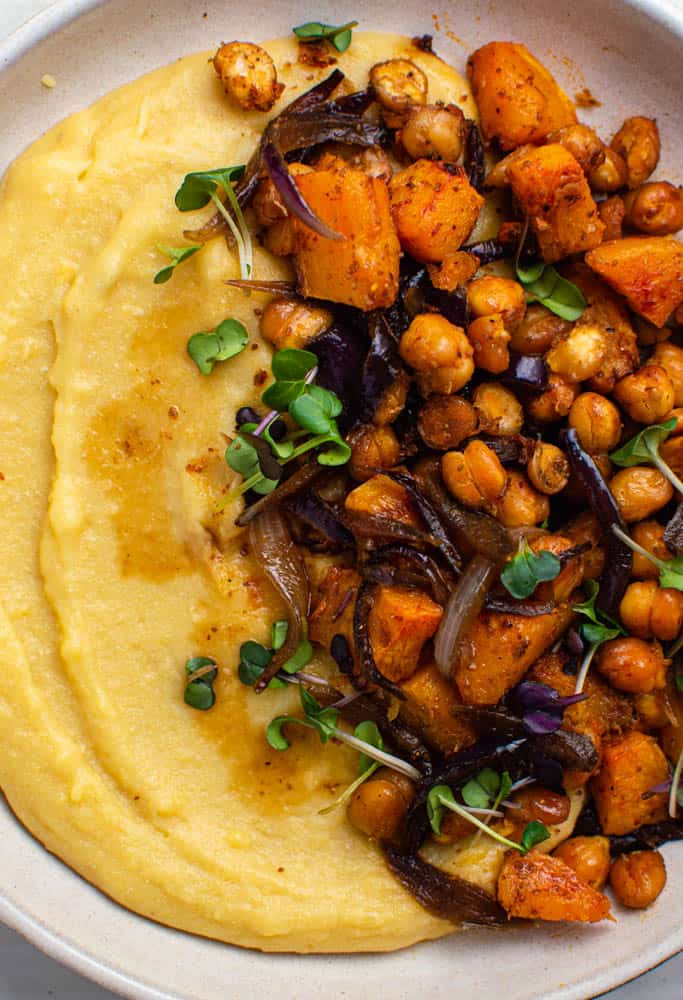 Ingredients You Need 
Cornmeal.

High-quality cornmeal is essential for a good polenta.

Coconut milk. Make the polenta rich and creamy.

Nutritional yeast.

Gives a cheesy, umami flavor.

Cooked chickpeas.

They add plant-based protein, as well as texture. Rinsed and drained.

Pumpkin.

You can also substitute it with other veggies like sweet potatoes.

Red onion.

Once it caramelizes, it gives an incredible flavor to this recipe.

Spices

like smoked paprika, ground coriander, salt, and black pepper. Or any other spice that you like.

Soy sauce.

Use tamari if gluten-free.

Olive oil

or any oil you have on hand.
How to Make This Recipe?
Add the cubed pumpkin and chickpeas to a baking dish. Add smoked paprika, and ground coriander (or any spices that you like). Drizzle with some olive oil, and mix until well coated. Roast for 30 minutes or until the chickpeas and the squash get golden.
In the meantime, prepare the caramelized onion. Heat 1-2 tablespoon of oil in a pot. Once hot, add the onion and cook for 15 minutes, stirring occasionally to prevent burning. It's important to do this on medium-low heat to allow the caramelization process to happen.
Once the onion is getting nice and brownish, add the soy sauce and some water and cook for 5 more minutes. Trust me with the water here. You will be left out with perfectly caramelized onion, PLUS amazing broth-like liquid to drizzle over the polenta later. Dreamy combo.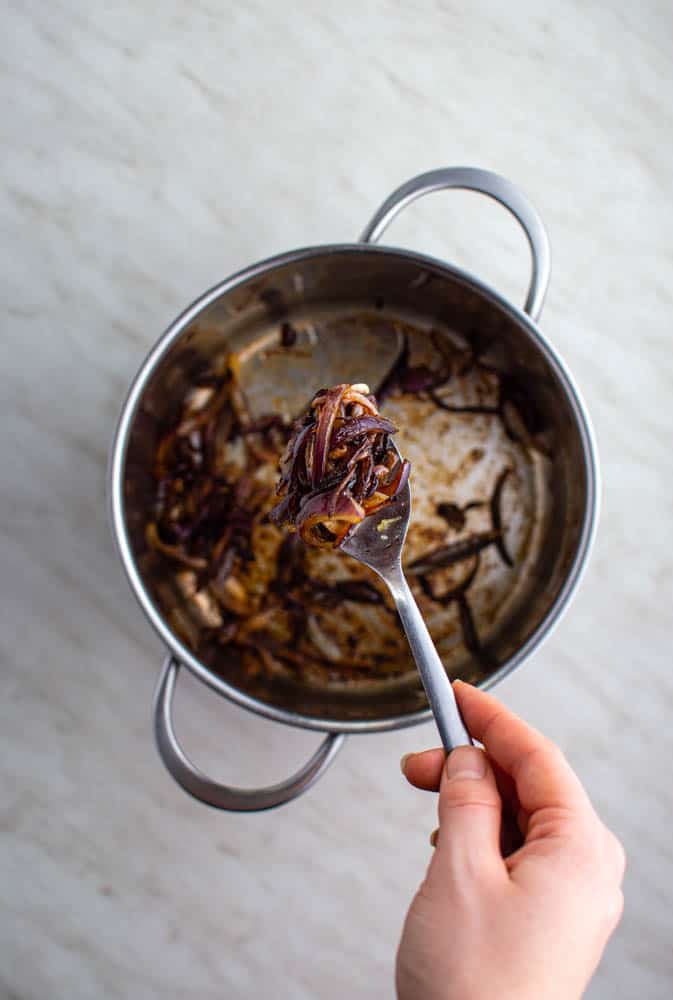 Remove the onions and prepare the polenta in the same pot (no need for washing here, can I get a "hell yeah"?).
Add water, coconut milk, and salt, and bring to a boil. Once it starts simmering turn the heat off and slowly add the cornmeal into the hot liquid. Whisk constantly until it has thickened. Finally, add nutritional yeast and whisk for 2-3 minutes more until it dissolves.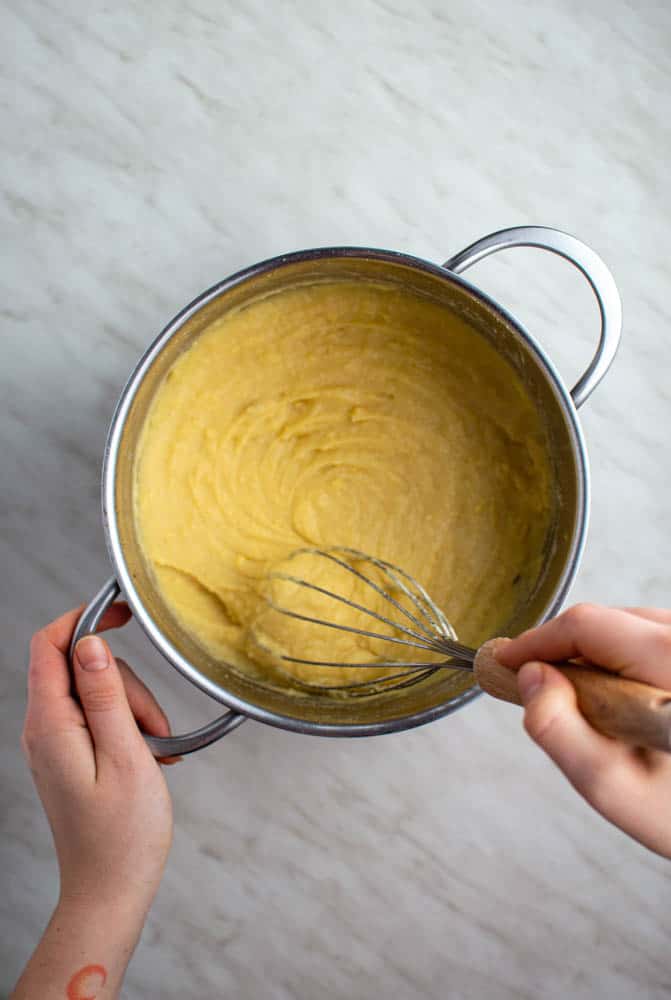 At this point, the pumpkin and chickpeas should be roasted until perfection. Take them out of the oven. Assemble the dish by adding the polenta on the bottom and topping it with the caramelized onion and the other components.
Expert Tips
Use high-quality corn flour.

The better the cornmeal, the better the polenta. Use fine cornmeal for a quicker result.

Add the cornflour a little bit at a time and whisk constantly.

This will ensure creamy polenta with minimal lumps.

Serve while it's still warm.

As it gets colder, the polenta starts to firm up and loses its creaminess.

Chop the squash into small cubes.

It will take less time to roast in the oven.

Top with vegan cheese for even more flavor.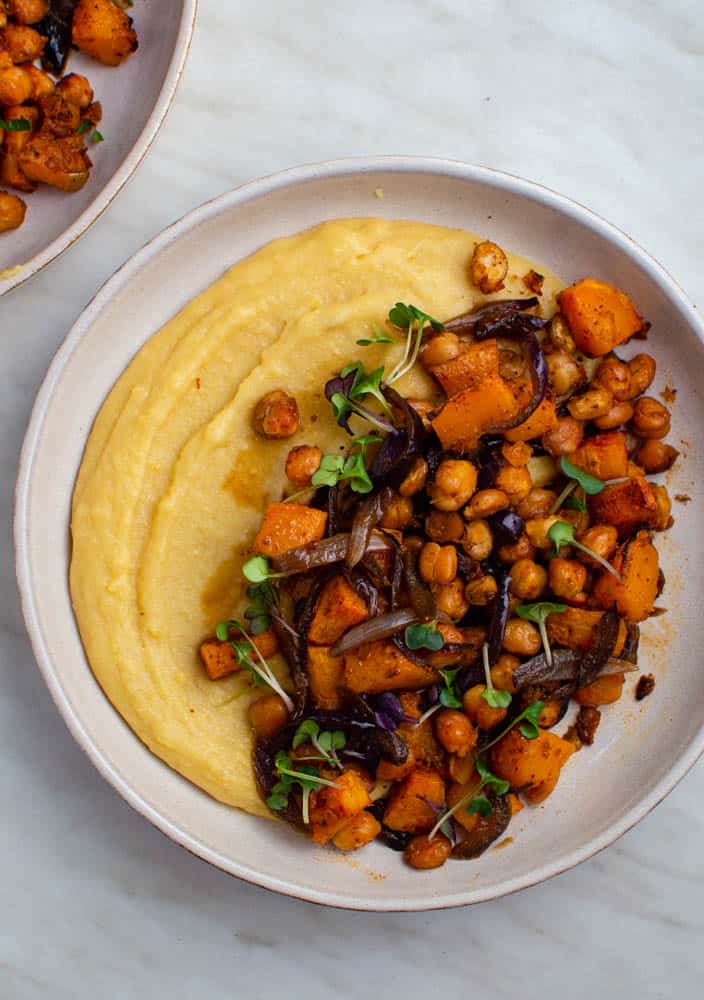 How to store and re-heat this recipe?
It's important to save the polenta and the toppings in a separate container.
To re-heat the toppings:
Pre-heat the oven to 180C. Place the cooked pumpkin, chickpeas, and red onion in a baking dish and bake for 10 minutes.
To re-heat polenta:
Add polenta to a pot alongside ⅓ cup of water or vegetable broth and heat over low heat. Once it's hot, start to whisk until it forms a creamy consistency. Serve.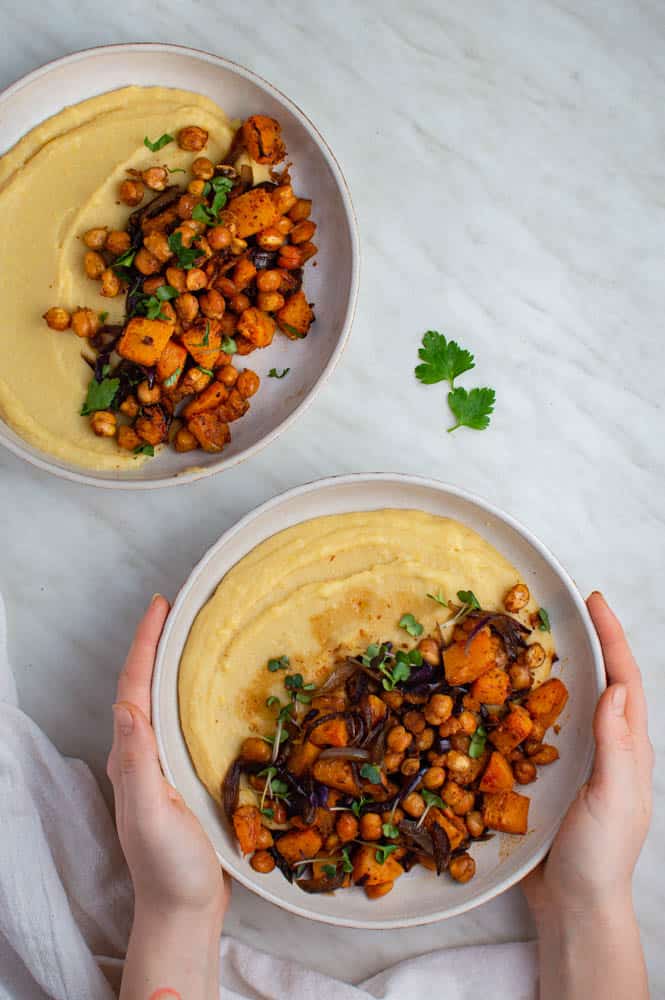 More Easy Vegan Dinner Recipes
Creamy Vegan Polenta with Butternut Squash and Chickpeas
Healthy vegan dinner that comes together in about 30 minutes and is packed with plant protein, whole grains, and flavor! Really easy to make and perfect for meal prep.
Ingredients
For the Polenta
½

cup

fine cornmeal

1

cup

water or vegetable broth

1

cup

light coconut milk from a can

(or sub ½ cup full fat coconut milk + ½ cup water)

¼

cup

nutritional yeast

½

teaspoon

salt
For the toppings
1

cup

pumpkin

peeled and cubed

1

cup

cooked chickpeas

drained

1-2

tablespoon

olive oil

1

teaspoon

smoked paprika

(optional)

½

teaspoon

ground coriander

(optional)

½

teaspoon

salt

1

medium head

red onion

thinly sliced

1

tablespoon

soy sauce

(use tamari if gluten-free)

¼

cup

vegetable broth or water
Instructions
Pre-heat oven to 180C (356F). Place chickpeas on an absorbent towel and dry them gently. Transfer to a baking dish alongside the butternut quash. Add smoked paprika, ground coriander, salt, and black pepper, and drizzle with some oil. Mix until well coated and roast for about 25-30 minutes or until golden.

In the meant time, prepare the caramelized onion. Heat 1-2 tablespoon oil in a pot. Once hot, add the red onion and cook for 15 minutes over medium-low heat. Stir occasionally to prevent burning. Once the onion looks nice and brown, add soy sauce and ¼ cup water of water and simmer for 5 more minutes. Remove from the pot.

Prepare the polenta by adding 1 cup water, 1 cup coconut milk, and salt and bring to a boil. Turn the heat off and slowly start adding the polenta, whisking constantly. Once it thickens, add nutritional yeast and whisk for 1-2 minutes more until it a creamy polenta is formed.

Take the chickpeas and squash out of the oven and assemble. Add polenta on the bottom and top with caramelized onion and the rest of the components. Enjoy immediately