Easy and cheap Vegetable Broth made out of vegetable scraps only! Requires just 1 pot to prepare and packs in so much flavor! Perfect for soups, curries, sauces, and beyond!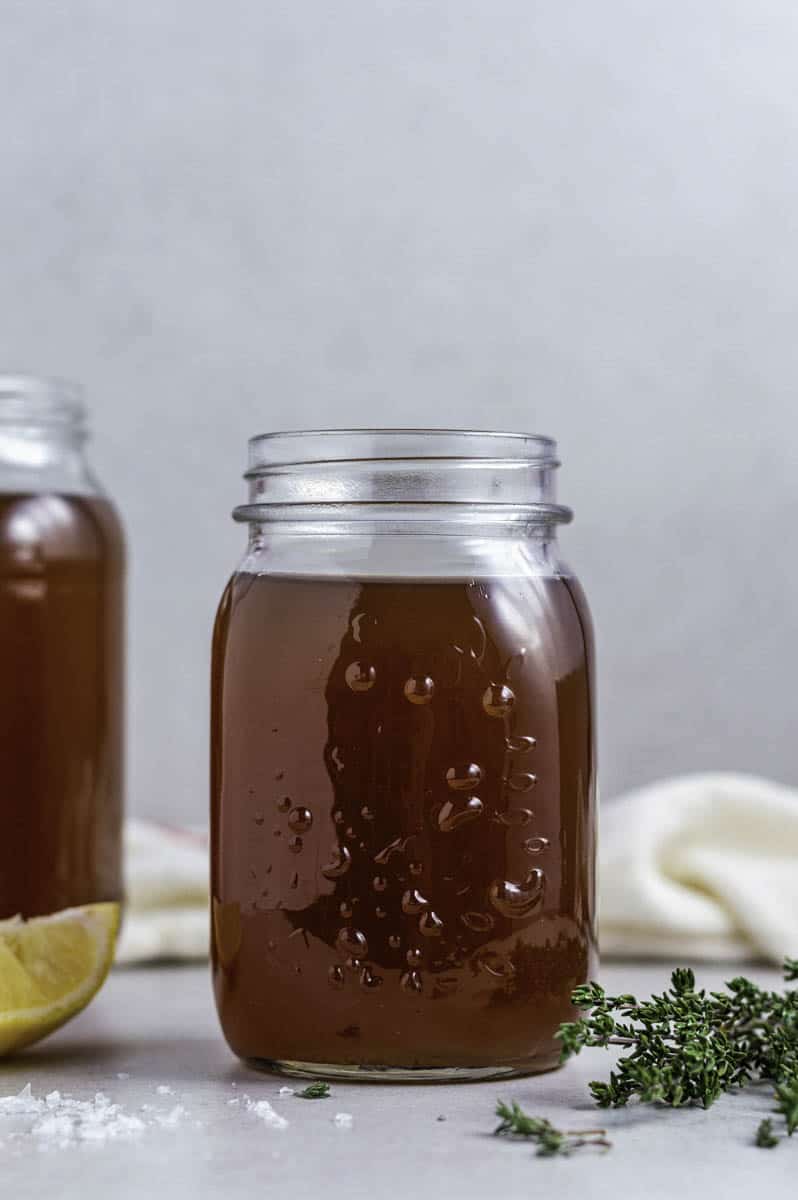 This post was updated on 26/01/22 with better content.
Vegetable broth is the base for many
delicious meals
, and making it with scraps is so easy and actually
FREE
! This recipe can be made on the Stovetop, Instant Pot, or in a Slow Cooker.
Once you try it, there is no going back to the overpriced stuff you get at the grocery store. And if you have any vegetables that are about to go bad, this is the perfect chance to use them up!
Ingredients and notes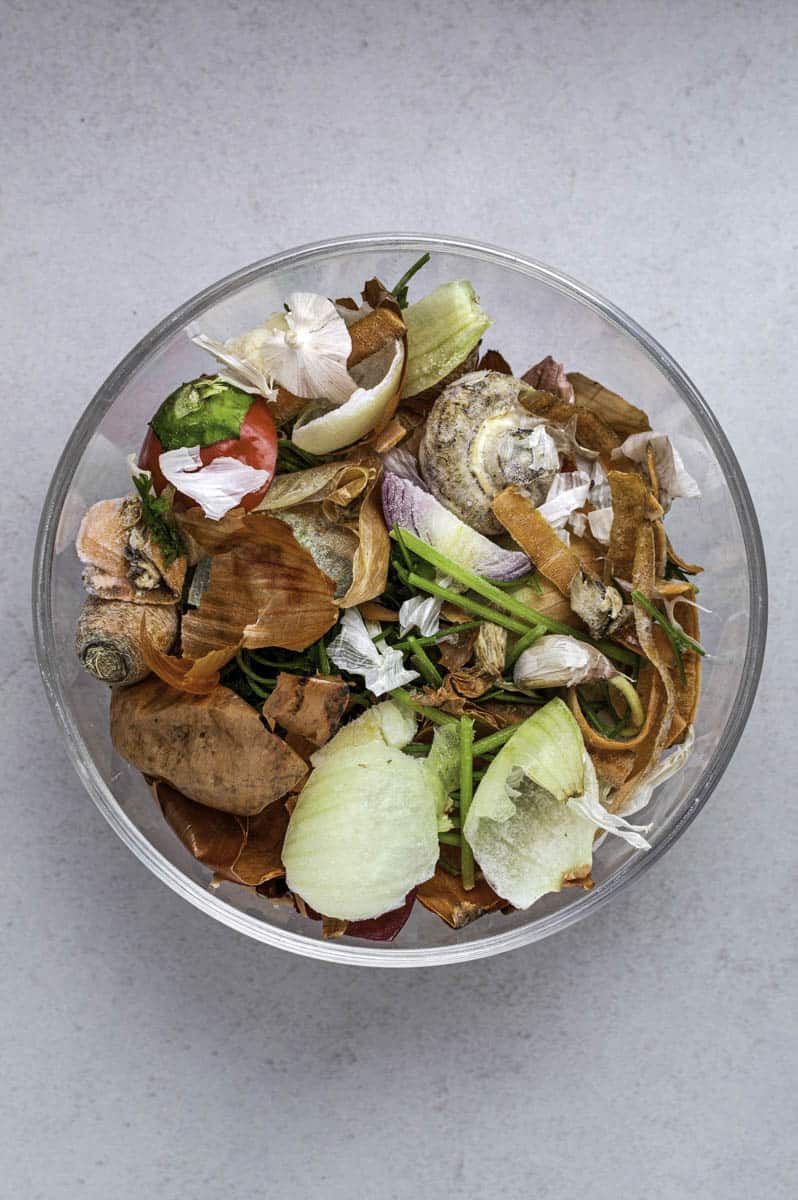 Vegetable scraps- c

arrot peels, vegetable stalks, onion skin, t

he end part of red peppers and tomatoes, mushroom stems and peels, tops of leeks/carrots/sweet potatoes, s

tems from leafy greens (like kale or spinach), etc.

Salt. It's optional, but I do like to salt my broth for more flavor.
Herbs.

You can add fresh herbs such as parsley, thyme, or cilantro. For dried herbs, I like to add a few bay leaves.

Tomato puree, about 1 tablespoon for deep umami flavor. Optional.
What to avoid
Citrus peels and herbs with tough stems.

They're bitter and don't provide much flavor.

Strong tasting vegetables

like broccoli, cabbage, cauliflower, Brussels sprouts, etc.

Hot peppers. I don't recommend making your broth spicy, because it's less versatile to use.
Potatoes and sweet potatoes. They'll release starch into the broth, and again, don't provide much flavor.
How to make vegetable broth from scraps
Step 1
To a medium pot, add vegetable scraps, water, and any optional add-ins that you like (bay leaves, herbs, tomato paste,
etc.).
Bring to a boil. Once it starts to simmer, reduce the heat to low and cook for 1-2 hours.
Step 2
Let the broth cool enough to handle (10-15 minutes) and strain into another pot or into a bowl.
At this point, you can season with salt if desired. Then, transfer broth into jars and it's ready to use!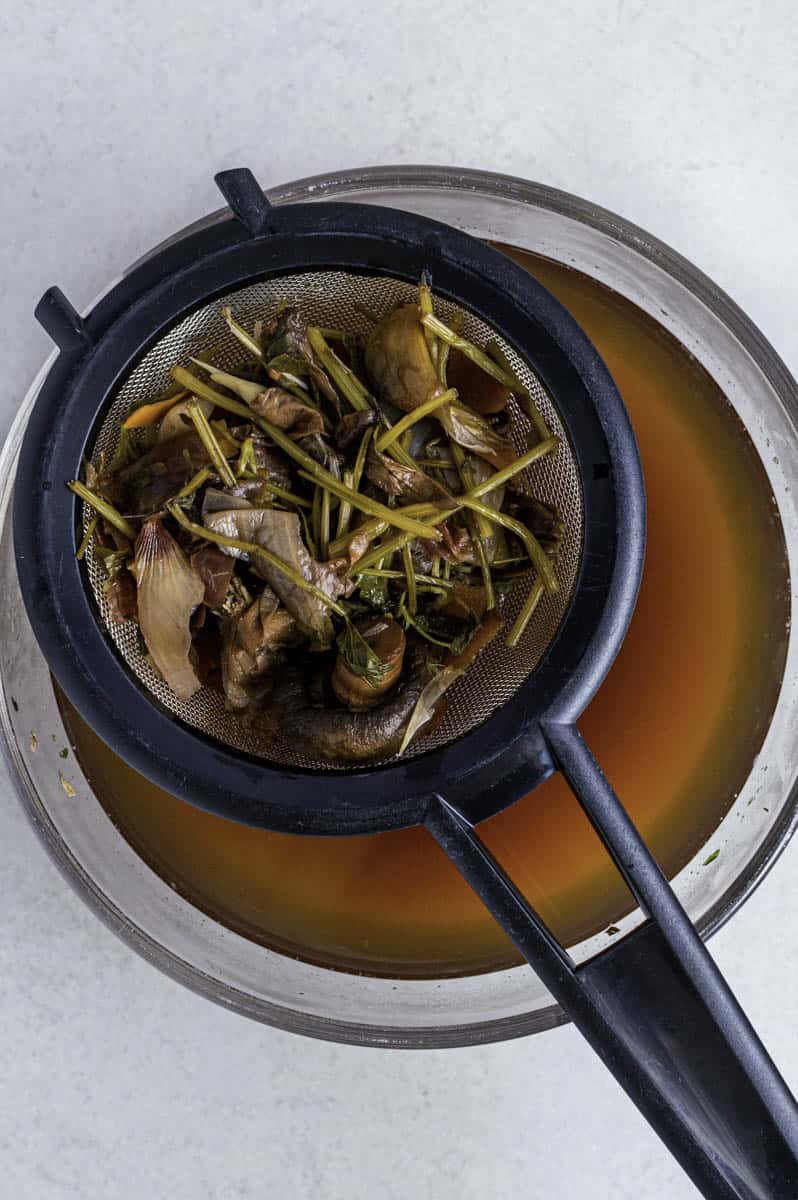 Expert Tips
Freeze scraps to make broth later.

This is my go-to tip for you! Whenever you are cooking and you are left with a bunch of peels, stems, etc., simply transfer them to a bag and freeze them for later. I like to use reusable bags to avoid waste.

Simmer it for at least 1 hour.

With broth, the longer you cook it, the deeper the flavor gets. You can go as long as 3 hours.

If you have any

vegetables that may be going bad, throw them in!

That's a great way to use vegetables that you forgot or couldn't cook when they were fresh.

Be sure to wash your scraps very well before using them.
FAQ
How do I store it?
You can store it in the fridge for 5-6 days. For longer life, freeze it up to 6 months.
Is vegetable stock the same as vegetable broth?
Yes. These two are the same thing, so if a recipe calls for vegetable stock you can use your homemade vegetable broth!
Can vegetable broth be substituted for chicken broth?
Yes, you can use it in place of chicken broth, but I recommend spicing it up a little bit by adding 1 tablespoon soy sauce. This will provide flavor and richness.
Can you make it in the Instant Pot?
Yes! Add everything into the Instant Pot and place the lid. Press the Manual button and cook for 30 minutes. Then, allow for slow natural release. Strain the broth and it's ready to use.
Can you freeze it?
Yes! This broth freezes well and keeps for a few months in the fridge. I always make a big batch and freeze it for later so I can have it on hand at any time.
Ways to Use Vegetable Broth
This recipe has so many uses and is a great substitute in almost any savory recipe that calls for water. One of my favorites are:
Easy Homemade Vegetable Broth From Scraps
Easy and cheap Vegetable Broth made out of vegetable scraps only! Requires just 1 pot to prepare and packs in so much flavor! Perfect for soups, curries, sauces, and beyond!
Ingredients
1

gallon-sized freezer bag of vegetable scraps

10-12

cups

water

½

teaspoon

salt

(optional)

2

bay leaves

(optional)

A small handful of fresh herbs such as thyme, cilantro, or parsley*

(optional)
Instructions
In a medium pot, add vegetable scraps, water, bay leaves (optional), and any fresh herbs that you may be using. Brint to a boil and simmer over low heat for 1-3 hours.

Once ready, let broth cool for 10-15 minutes, then strain into another pot.

Add salt and mix. Divide between containers/jars. Let cool completely before storing in a refrigerator, where it lasts for 5 days, or freeze for up to 1 month. Use for soups, curries, sauces, and more!
Notes
After the broth is strained, you can safely compost the cooked vegetables.
*Calories are per cup. Nutrition information is a rough estimate calculated without optional ingredients.