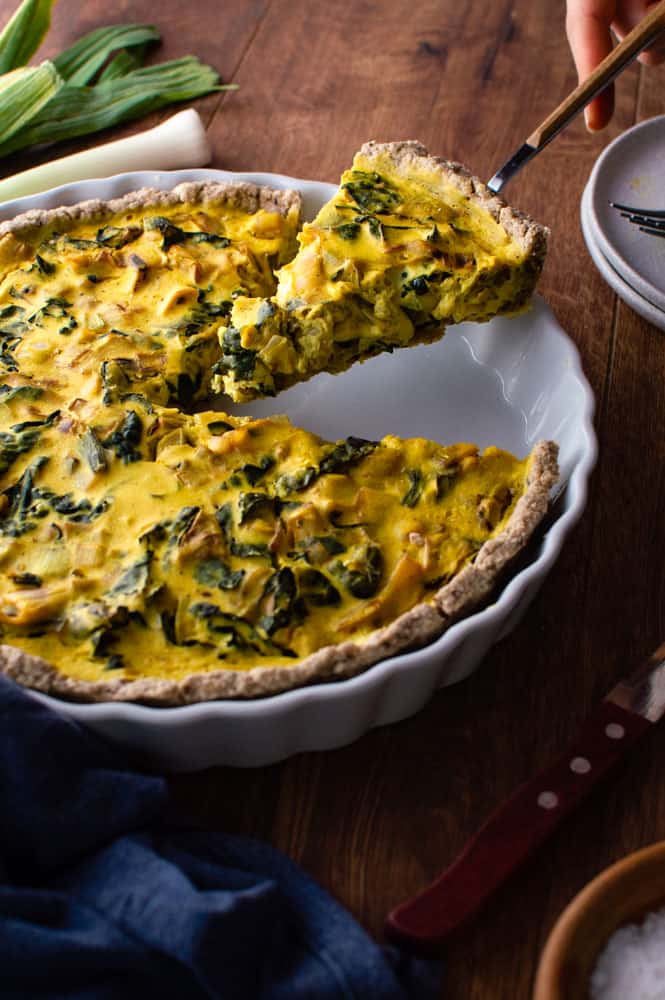 Let me introduce you to the BEST savory pie. Ever.
I know, I know, it sounds quite fancy, and you may think that you need some unheard ingredients to make it. But what if I tell you that this is the simplest of pies, with the most easy-to-find, wholesome ingredients and you probably have all of them in your kitchen right now.
Jump to:
Ingredients you need
Oat flour. The base of the crust starts with oat flour. Did someone say FIBER? Yes, please.
Tapioca starch. The magical ingredient that keeps it all together.
Flax meal. It replaces eggs and is stable in vegan baking.
Coconut oil. Instead of butter, for the crust, we use room-temperature coconut oil.
Leeks & Kale. Veggies are always essential.
Silken tofu adds so much texture and creaminess. It's also high in plant-based protein and keeps this recipe nut-free. For more recipes featuring silken tofu, check out my 40 best silken tofu recipes roundup.
Coconut milk. Full-fat coconut milk from a can is the best option. The one I use has a really mild coconut flavor, which is what we want here.
Nutritional yeast. For that deep cheesy flavor.
Spices like garlic powder, salt, turmeric, and black pepper.
How to make it
The crust is entirely vegan, nut-free, and gluten-free and is just a crispy perfection. It requires 4 ingredients to prepare and 10 minutes of work. It does not fall apart or crumble like some other vegan pie crusts, plus it is vegan butter-free.
After the dough is mixed, it's time to roll it out into an even crust.
Put the dough ball between two pieces of parchment paper and use a rolling pin or a flat-bottomed object (such as a wine bottle, drinking glass, etc.) to roll it out from the center, until it becomes as wide as your pie tin.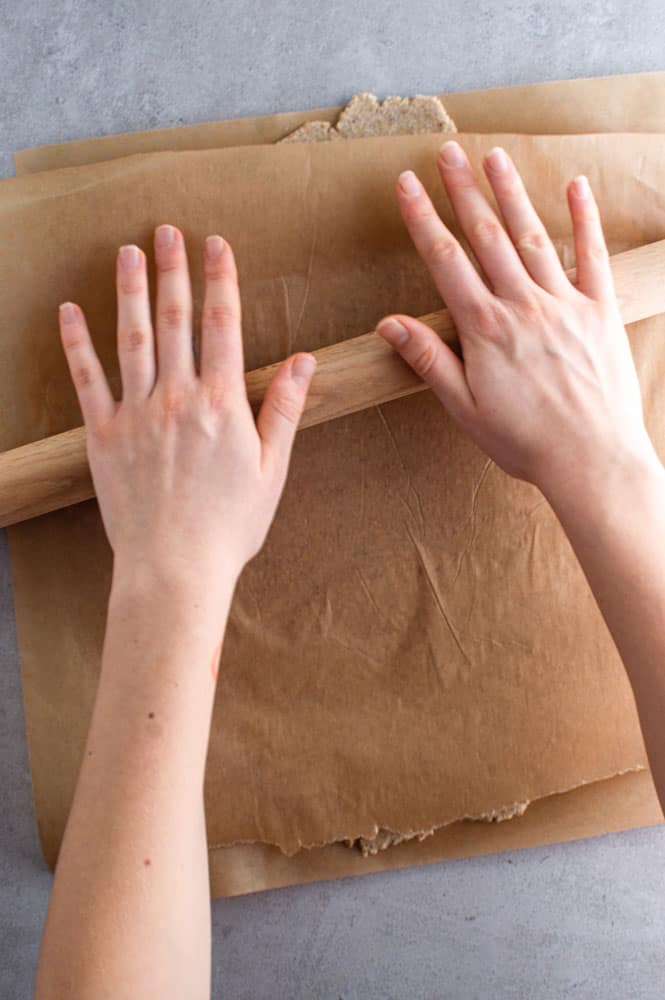 Transfer the rolled dough to the pie tin and use your hands to press it down into an even, flat crust.
Use a fork to poke a few holes so it doesn't puff up when baking. Then freeze for about 10 minutes and bake in a preheated oven for 20-25 minutes. It's as easy as it can get.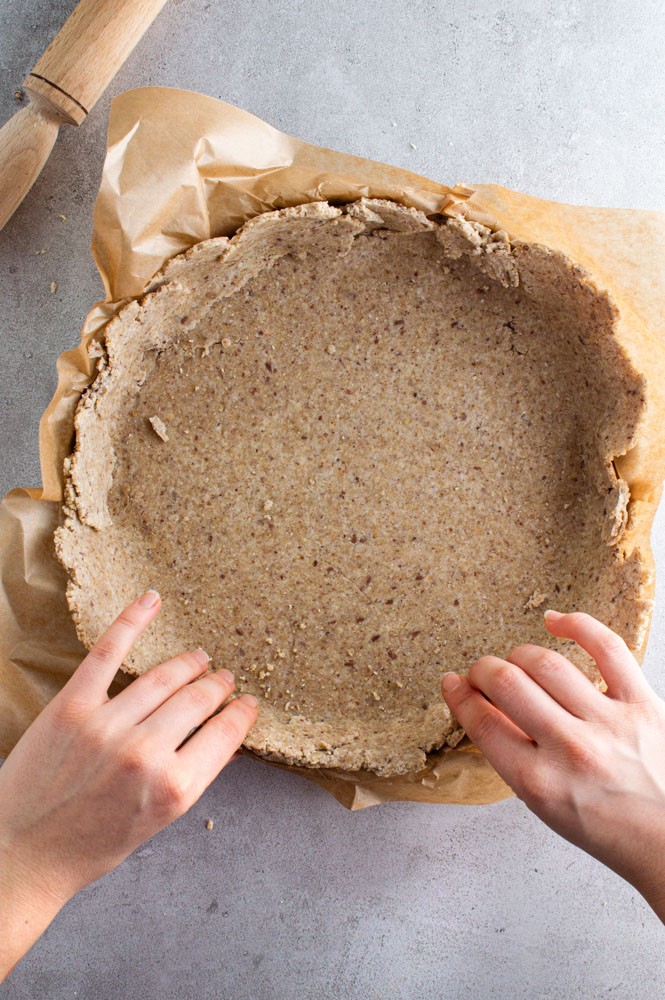 While waiting for the crust to bake, start preparing the stuffing. Heat some oil in a skillet and add the leeks. Cook them for about 10-15 minutes or until slightly caramelized.
Then we add the kale and cook for 5 more minutes or until it has decreased in volume.
Time to assemble our pie! After the crust is baked and the veggies are cooked, leave both of them to cool a bit, and then fill in the crust with the fried leeks and kale.
It's time to prepare the creamy tofu filling. Simply blend tofu with coconut milk, tapioca starch, and some spices until creamy. Pour on top of the veggies.
Use a spatula or a spoon to gently mix them together and smooth them into an even layer. Then bake for 30 minutes and you are all ready to go!
Expert Tips
Use soft, scoopable coconut oil, not melted. If you use melted coconut oil, the crust won't be the same.
Let the leeks and kale cool before transferring them to the pie crust.
Freeze the dough for 10 minutes to allow for better texture.
Use full-fat coconut milk from a can for the best results.
If you make this recipe, tag us on Instagram at @sunglowkitchen and hashtag#sunglowkitchen so we can see your delicious results!
📖 Recipe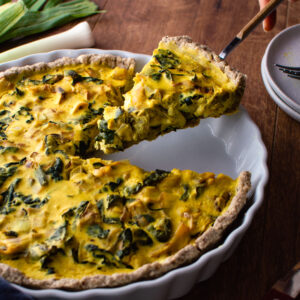 Savory Fried Leeks & Kale Tart
The best healthy savory pie stuffed with veggies and creamy tofu filling. It is so easy to make, requiring simple and easy-to-find ingredients that you probably have at home!
Print
Pin
Rate
Equipment
Pie tin

Mixing bowls

Rolling Pin
Ingredients
For the crust
⅔

cup

oat flour

(gluten-free if needed)

⅓

cup

tapioca starch

1

batch

flax egg *

⅓

cup

solid coconut oil, NOT melted

⅓

cup

water
Instructions
Crust
First, prepare the crust. In a medium bowl add the dry ingredients - oat flour and tapioca starch and mix until well combined. Then, add the coconut oil, water, and flax egg and use your hands to mix everything until a dough is formed. It should not be sticky or dry. If it's too sticky add 1 tablespoon oat flour at a time. If it's too dry, add 1 tablespoon water at a time until it's moist enough.

⅔ cup oat flour,

⅓ cup tapioca starch,

⅓ cup solid coconut oil, NOT melted,

⅓ cup water,

1 batch flax egg *

Get two pieces of parchment paper and place the dough between them. Use a rolling pin or any flat-bottomed object (such as wine bottle, drinking glass, etc.) to roll the dough out until it becomes as wide as your pie tin. To make sure your dough is rolled out evenly, place your hand on it and try to feel if there is any place where there is a bump. If there is, roll it out until it evens.

Peel the top layer of parchment paper and transfer the rolled dough into the pie tin. Use your hands to press and form the dough into an even, flat pie crust, pushing the dough up the sides to form the sides crust. Then use a fork to poke the crust and create little holes which will prevent the dough from puffing when it's in the oven.

Freeze the crust for 10 minutes. Pre-heat oven to 180C (356F).
Leek and kale filling
Start preparing the filling. Chop the leeks and the kale into small pieces. Then heat 1-2 tablespoon oil in a skillet. Once hot, add the leeks and cook for about 15 minutes or until they start to caramelize.

3 cups leeks, chopped,

2 tablespoon oil, for sauteeing

While the leeks are cooking, make the crust out of the freezer and bake it for 20 minutes.

When the leeks are fully cooked, add the kale and cook for about 3-5 minutes. Then remove the skillet from the heat and let it cool. Do the same with the crust, take it out of the oven and let it cool a bit before adding the filling.
Tofu layer
While you are waiting for them to cool down, start preparing the third and last component- the creamy topping. Add all of the ingredients to a blender or a food processor - tofu, coconut milk, nutritional yeast, tapioca starch, garlic powder, salt, turmeric, and black pepper. Blend until smooth. Taste and adjust the flavor if needed, more salt for saltiness, nutritional yeast for cheesiness, and garlic powder for depth.

1 pack (14 ounces) silken tofu,

1 ½ cup full-fat coconut milk,

⅓ cup nutritional yeast,

2 tablespoon tapioca starch,

1 tablespoon garlic powder,

½ teaspoon sea salt,

½ teaspoon ground turmeric,

¼ teaspoon black pepper

After 10 minutes or so, both the crust and the veggies should be cooled enough to assemble. Add the veggies into the crust and pour the tofu mixture. Use a spoon or a spatula to gently mix them together. Smooth into an even layer. (see photo above)

Bake for 30-35 minutes. Insert a knife into the center of the pie, if the blade comes out clean, your pie is ready. Set it aside and let it cool for about 20 minutes before cutting.

Save the pie in a covered container in the fridge for up to 4 days.
To re-heat:
Add the pie into a baking tray and bake for 10 minutes at 180C (350F) or until it's warm enough for your preferences.
Step-by-step images
Scroll back to find detailed recipe photos!
Notes
To prepare a flax egg, mix 2 tablespoon of flax meal with 4 tablespoon water and let it rest for about 5 minutes. Use as an egg substitute.
The coconut milk I am using has a very mild coconut flavor, which is what we want in this recipe. If the coconut milk you are using has a really strong coconut flavor, it's best to sub with different plant milk that's high in fat or uses a dairy-free creamer (such as almond). Otherwise, the coconut flavor may be too strong.
I am using a pie tin with a radius of 22 cm.
Crust recipe adapted from From My Bowl.
*Nutrition information is a rough estimate calculated without optional ingredients.
Nutrition
Nutrition information is a rough estimate calculated with third-party calculations without including the optional ingredients.