You'll be surprised how many things you can do with a block of silken tofu! Here we've rounded up 40 of our favorite silken tofu recipes to give you ideas on how to use this nutrient-rich product!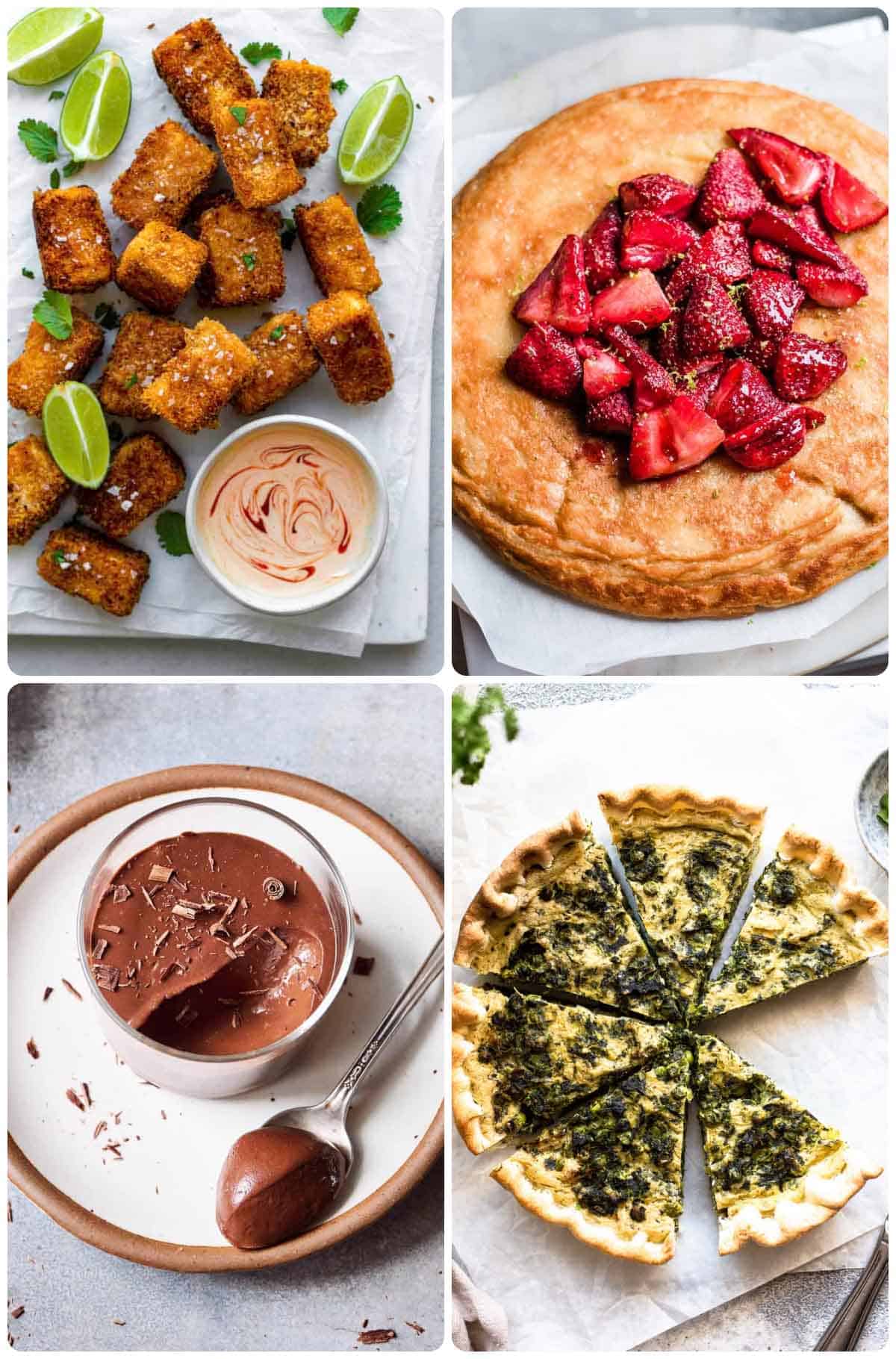 Silken tofu is a common ingredient used in vegan cooking in a variety of recipes. From cakes, soups, and pasta dishes, to quiches, cheesecakes, and more!
Thanks to its versatility, the possibilities of using it are truly endless.
These vegan silken tofu recipes are nutritious, packed with protein, and easy to make. It's safe to say that we have something here for everyone, even if you're a tofu skeptic!
Jump to:
What is Silken Tofu?
Silken tofu is a protein-rich ingredient made from soy milk. It contains a lot of moisture and has a very soft texture.
It has a subtle flavor and a mild taste. The consistency is creamy and smooth, often compared to custard or pudding.
Because of its soft texture, it can fall apart easily, which makes it a versatile ingredient in creamy sauces, dips, spreads, and many other recipes.
It's naturally vegan, gluten-free, and nut-free, but it's not suitable for people who have a soy allergy or are sensitive to soy products.
FAQ
Tips for Using It
Serve silken tofu raw with toppings, in soups or stews, or battered and fried, just like in my fried silken tofu recipe. It's also great to blend into sauces and dips, similar to my silken tofu pasta sauce.
Avoid using it for grilling, stir-fries, or noodles dishes where you need the firm texture of regular tofu. It will most likely fall apart and turn into mush. If a recipe requires you to press the tofu, always use firm or extra-firm tofu!
You can use it as an egg replacer in recipes like cupcakes, cakes, and pancakes. For every 1 egg, use ¼ cup of blended silken tofu. You may need to add more flour or liquid to adjust the texture of the batter if needed.
Use it as a dairy substitute. If a recipe calls for heavy cream, you can blend silken tofu until it's smooth and creamy and use that instead. Keep in mind that this works best for soups, stews, and pasta sauces.
Best Silken Tofu Recipes
These delicious recipes will make you fall in love with silken tofu! They're all vegan and dairy-free, with gluten-free options included.
My favorites include the silken tofu pasta sauce and vegan chocolate mousse.
Savory Recipes
Sweet Recipes
If you try any of these silken tofu recipes, let me know in the comments below! I'm curious to know which one is your favorite. 😋