These Cold Vegan Side Dishes are great for any season and holiday, including BBQs, picnics, and potlucks! They're fresh, delicious, and comforting, and can be made ahead of time for a stress-free dinner!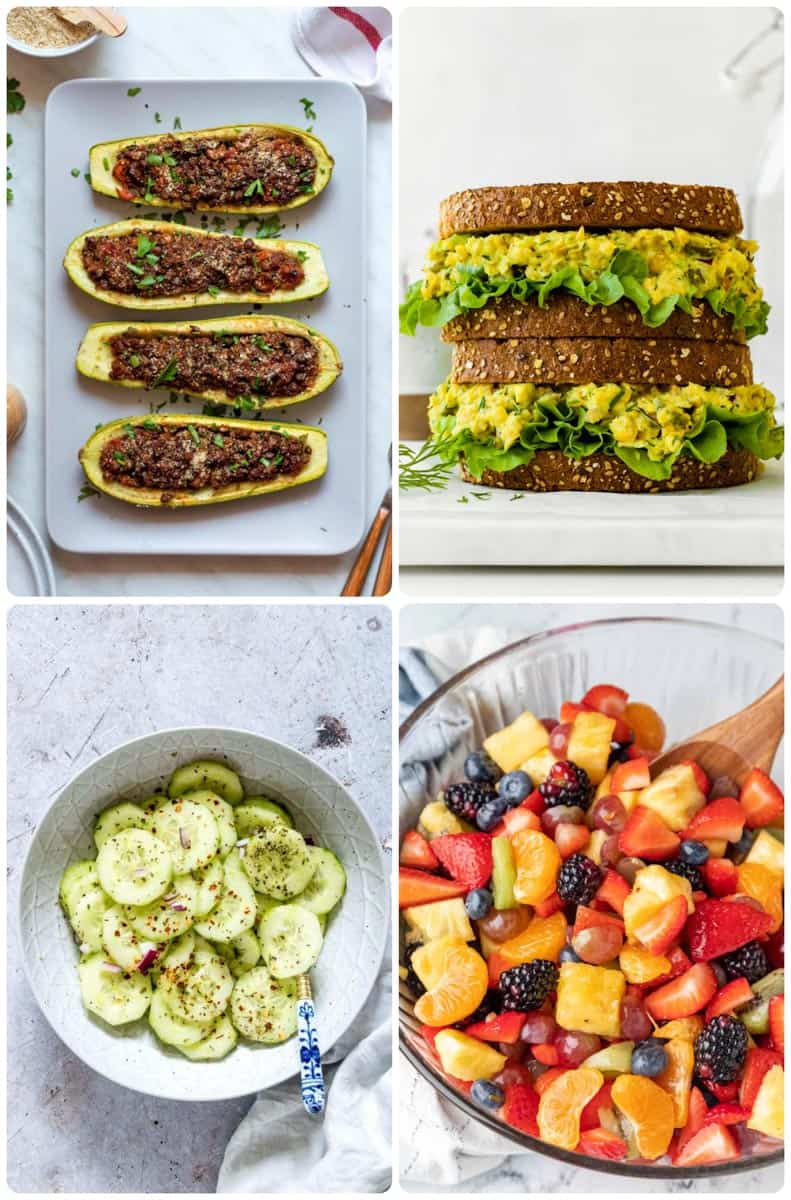 No more stressing over reheating side dishes, friends! Cold side dishes are not for summer only, they can be served all year round!
We've included recipes for BBQs, picnics, potlucks, Thanksgiving, and even Christmas.
Whatever the occasion, we've got a recipe for you that your friends and family will love, and probably won't recognize it's vegan!
Jump to:
Why Serve Cold Side Dishes?
It makes things so much easier! We all know how hard it is at Thanksgiving, trying to serve everything warm and on time. Well, serving cold side dishes makes putting on a delicious table so much easier.
Less stress and effort. Instead of worrying if everything is warm enough and reheating things a couple of times, you can focus more on other things like enjoying the company of the people you've invited and making conversations (which is a big part of hosting a gathering).
Easy to transport. Since these are cold vegan side dishes, you can easily take them with you on a picnic, potluck, or over at a friend's house, without worrying if the dish will still be warm when you get there.
Delicious and flavorful. Even though these recipes are not served warm, they're still so yummy and don't compromise on flavor. Some of them are real crowd-pleasers!
They bring freshness to heavier main dishes. Have you ever had a rich meat dish like lasagna or Shepard's pie and found yourself reaching for the salad more than once? That's because cold side dishes cleanse the palate with their freshness and acidity, helping you to taste better whatever is the star of the show.
Tips for Serving Cold Vegan Side Dishes
Prepare the day before. Some recipes like macaroni salad, coleslaw, and cucumber salad can be made beforehand. This is such a great helper if you're busy doing other things for your holiday/party like decorating or cleaning.
Serve some dishes at room temperature. Yes, these are cold side dishes, but some of them are best enjoyed at room temperature. Like this savory vegan tart and this white bean dip. I recommend removing those dishes from the fridge at least 2 hours before serving.
Ask your friends to bring something over! You can ask a friend or family member to prepare something the day before and bring it over. No need to worry if the dish will arrive at the table warm!
Cold Vegan Side Dishes Recipes
Readers Favorites
Here's what our readers have been making on repeat this summer. My personal favorite is the corn fritters!
Salads and Roasted Vegetables
Pasta and Noodle Recipes
Dips and Sauces
If you try any of these cold vegan side dishes, let me know in the comments below! I'm curious to know which one is your favorite. 😋