These NutriBullet Smoothie Recipes are healthy, delicious, and ready in less than 5 minutes! Enjoy these refreshing smoothies for breakfast or a snack! Vegan and gluten-free options are included.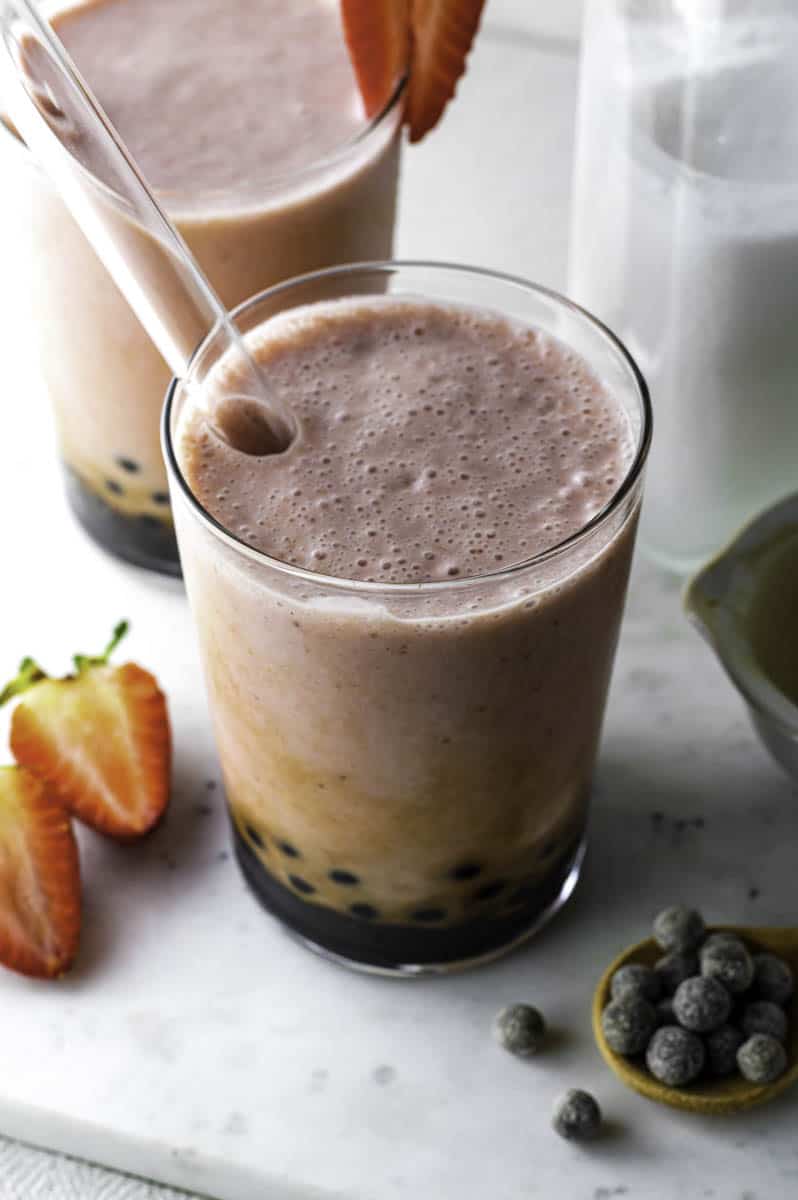 People often ask me what's the best thing they can do for their health. I used to think it was working out for 2 hours a day, or eating salads for every meal.
But I realized that the answer is drinking smoothies in the morning.
Let me explain.
Smoothies are a great way to pack in many different fruits, vegetables, nuts, and seeds, and they're ready in less than 5 minutes.
You don't need to spend hours in the kitchen or wash a pile of dishes afterward.
By having a smoothie for breakfast, you get a good amount of fiber, antioxidants, vitamin C, and even protein (and more!).
All of that with just your first meal of the day. Amazing, right?
These delicious NutriBullet Smoothie Recipes will nourish you from the inside out and leave you feeling energized, satiated, and ready to take on your day!
Jump to:
Equipment Needed
If you haven't already, I highly recommend getting yourself a NutriBullet. Not only is it useful for smoothies and shakes, but you can make soups, sauces, pulse nuts, seeds, and more!
The classic blender is the NutriBullet Personal Blender, which is perfect for anyone who is looking to use it for their morning smoothies.
The next option is the NutriBullet Pro, which comes in many colors and with a few attachments. This one is more powerful than the classic one (900 Watts vs 600 Watts) and is perfect for those who want to blend nuts, seeds, oats, and other hard foods.
I've personally used both, but I do prefer the NutriBullet Pro since it's more powerful and I can use it for many different things without worrying if it will break.
P.S. NutriBullet has also launched NutriBullet Blender Combo, NutriBullet Food Processor, and NutriBullet Slow Juicer, so check them out if you're interested.
Tips for Making Smoothies
Use ripe fruits in season. Have you ever tried a smoothie that tasted like... well, nothing? If so, that may have been because the fruits were not ripe enough. I always use bananas with dark spots and ripe mangos that are soft to the touch. For berries, use the ones in season for the best flavor!
Use frozen fruits and vegetables. They are super convenient for making smoothies AND provide a creamier texture than fresh ingredients.
Sweeten to taste. If a smoothie is not sweet enough, don't hesitate to add a date or two or a splash of maple syrup. You can have a healthy smoothie that is also delicious!
Add protein and healthy fats! Sometimes smoothies can be low in protein and fat and high in sugar, which can make you feel hungry quickly after drinking them. Making a balanced smoothie is essential for feeling full and satisfied. I suggest adding protein powder, cottage cheese, or soft tofu for protein, and nuts, nut butter, or seeds for healthy fats.
Freeze ingredients in airtight containers in advance. Stack your freezer beforehand, so you will always be 2 minutes away from making breakfast. You can also freeze milk in an ice cube tray. Then you can use the cubes in place of the refrigerated dairy, making your smoothie thicker and colder.
Healthy NutriBullet Smoothie Recipes
Here are some of the best smoothies you can make in your trusty NutriBullet!
FAQ
Final Words
If you try any of these NutriBullet smoothie recipes, let me know what you think in the comments below.
I would love to hear which recipes are your favorite and if you think I've missed something that should be included!