If you are curious about fruits that start with W, then you've come to the right place. You'll be surprised by the diversity In this list of fruits from southeast Asia to North America, ranging from wild to domesticated fruit.
Here you will find an astonishing variety of flavors and the different health benefits that each one of these fruits has.
You'll also learn where you'll be likely to find them, and even how to best enjoy them - on their own, as an ingredient in a recipe, or in combination with other fruits. The possibilities are limitless!
The best part is that no matter where you are or what the season is, you'll see that there are fruits that start with W available at any time of the year.
With that said let's start our list. Starting with the most common one, can you guess it?
Jump to:
List Summary
Here's a quick list summary before we dive deeper into each fruit.
Watermelon
Walnut
Wineberry
Wolfberry
Western Hackberry Fruit
West Indian Cherries
Wax Apple Fruit
Wealthy Apple
Williams Pear
Wood apple
White Sapote
White Aspen Fruit
White Mulberry Fruit
White Currants
Winter Nelis Pear
Winter Melon
Winter Squash
Wild Lowbush Blueberry
Wild Lime
Wildbacher Grape
Wild Sugar Apple
Wild orange
Wild Custard Apple
Fruits that Start with W
Watermelon
Starting with the King of the list, available at any grocery store, packed with dietary fiber, the watermelon fruit is an icon of the summer with its sweet taste and juicy inside.
Watermelon is also one of the most versatile fruits on the planet, you can make anything with it - Ice cream, fruit salads, watermelon smoothies, cocktails, and desserts, or have it pickled for the winter season!
Not only is this juicy fruit delicious, but it also packs many nutrients. Watermelon seeds contain zinc, iron, folate, potassium, copper, and magnesium, making them a convenient snack.
Walnut
Surprised?
Fun fact - nuts are actually fruits. In fact, they are some of the most common types of fruits!
Common all year round, walnut fruit is available everywhere, and there is no shortage of how you can serve them.
Once you get through the hard shell, you'll find a sweet, mild, kernel of goodness that is a key ingredient in many recipes like healthy apple crisp, brownie energy bites, sweet potato salad, carrot cake smoothie, and more!
Wineberry
The wineberry fruit, also known by its scientific name - Rubus phoenicolasius, is a common fruit with a sweet and raspberry-like flavor when picked ripe.
Perfect for pastries, such as pie or other sweet treats, they are perfectly safe to consume on their own with no poisonous look-alikes found in nature.
These berries are found all across the United States and are a must-have to add to your winter treats. They are also rich in antioxidants, vitamin C, fibers, and minerals. Just remember to pick the bright-red ripe ones, as the younger ones can be very sour.
Wolfberry
The wolfberry fruit also commonly known as dried goji berry is a very popular herb with many people in Eastern cultures using it for medicinal purposes.
If you try it on its own you'll find that it has a very strong flavor. That's why we recommend using it as an ingredient in granola bars, energy bites, fruit smoothies, and even savory dishes like soup.
Western Hackberry Fruit
Native to North America and commonly found across the continent. Western Hackberry Fruit is highly nutritious, sweet, and tart and is perfectly suited to be treated as any other berry in jams, jellies, pancakes, cakes, or on their own.
West Indian Cherries
A Native of West India, and Latin America, you can also find them in parts of Texas and even India.
The taste is usually acidic to subacidic, giving them a sour taste due to the exceptionally high amount of vitamin C contained. You can use it to make juices and pulps, and vitamin C concentrate. Of all the fruits that start with W, these are definitely more sour than sweet.
Wax Apple Fruit
Also known as the java apple, Semarang rose apple, and wax jambu. It grows on the wax apple fruit tree which is native to the Malay peninsula, the Andaman, and Nicobar Islands.
The flesh is often light pink or white and is used in both spicy and sweet dishes due to its very light sweet taste.
Wealthy Apple
Bread in 1861 by Peter Gideon to survive the Minnesotan winters - the Wealthy Apple is juicy, crisp, and has a sweet and tart flavor reminiscent of strawberry. It is great for eating fresh as well as cooking.
Like any other type of apple, the list of uses for the wealthy apple is endless - pies, apple crisps, applesauce overnight oats, baked apples with cinnamon, salads, toppings, etc.
Williams Pear
One of the more popular types of pears, this round sweet juicy fruit is distinguished by its light yellow-green skin and plumb shape.
It's perfect to eat on its own or sliced as it has a very sweet and juicy taste.
With that being said it is also excellent for salads and as toppings. It is known to hold its shape well when under heat so it can also be baked or stewed.
Wood apple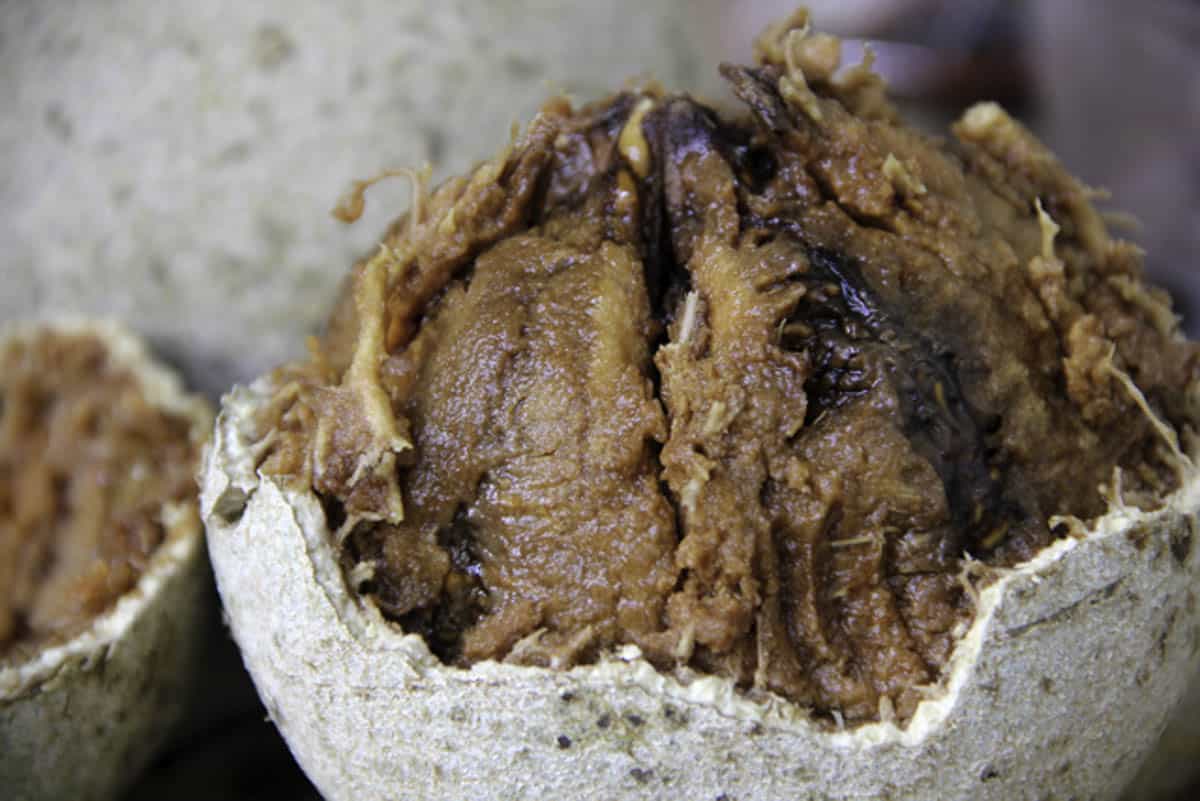 Of all the fruits that start with W, this one might be the most exotic.
Wood apple fruit has a rather sour and strange taste. Although that does not sound appealing don't give up on it just yet!
The hard, rough exterior is covered in sticky brown pulp and small white seeds, and once cracked open, exposes a soft, dark brown flesh that looks like banana pudding.
It's used in desserts, or with warm spices for savory dishes. It can also be made into juice by adding sugar and coconut milk to the strained pulp. The resulting juice is tart, sweet, and creamy, and is a refreshing street food option that's popular in the summertime.
White Fruits
White Sapote
Native to eastern Mexico and found across central America and parts of South America the white sapote fruit can also generally be found across tropical and sub-tropical regions across the world and even New Zealand.
This unique fruit is also known as the Mexican apple. It has a delicately sweet taste and is delicious on its own, in fruit salads or ice cream for those sweltering days.
It's something that everyone should try at least once. Although it's not as common as some of the other fruits on the list, this tropical fruit is just as delicious and deserves its spotlight.
White Aspen Fruit
The white aspen tree native to Australia grows this aromatic and exotic fruit. The fruits have a pleasant, peppery smell and a lemony, pine/mango flavor.
When it comes to using them as an ingredient, think of them as any other fresh berry. You can enjoy them fresh, in desserts, pies, or salads.
If you ever get a fair amount of White aspen fruit you can also dry it and use it as a natural sweetener.
White Currants
These sweet-tart berries are perfect for salads during the summer, and jams, crumbles, and tarts for the winter.
The white currant is native to Europe and available all across the world, so chances are you are more than likely to have access to these little guys.
White Mulberry Fruit
Despite the name, it is not too uncommon to find this tarty yet sweet fruit in colors such as pink or dark violet. It also goes by another name - Morus alba, and it grows on the white mulberry tree.
Perfect for eating on their own or enjoying them as dried mulberries or a form of jam. They're delicious on different pies, lemon tea cake, banana pancakes, and fresh salads. Typically, they're used like any other berries with all the benefits along with them.
Winter Fruits
Winter Nelis Pear
In our list of fruits that start with W, we find another pear. This is one of the sweetest, fine-grained, and creamy pears.
Bread in the 1800s, this delicious fruit is made to enjoy on its own or for making homemade jams, pear chutneys, jellies, etc. Readily available everywhere including during the winter.
Winter Melon
Native to East Asia and also known as an ash gourd, Chinese watermelon, or white melon is a fruit that is typically harvested around autumn-winter, hence the name.
It is recommended to remove the skin and seeds and then boil, bake, or fry it. Its inside is slightly sweet and very tasty.
Winter Squash
As opposed to other types of squash, this fruit has a much richer taste making it perfect for soups, stews, and roasting for adding to veggie bowls and creamy vegan polenta.
Its earthy and rich taste will stick with you and it might become your new favorite fruit for the winter season.
Wild Fruits
Wild Lowbush Blueberry
Small, round, blue bundles of goodness - these little guys have a sweet, tart, and ever so slightly sour taste.
They're a nutritious treat and a must-have for many recipes. You can use them on their own, in a powdered form, or as jams. Enjoy them on banana pancakes, blueberry bundt cake, overnight oats, or with our dairy-free crepes and dairy-free french toast casserole.
It is widely available in almost every grocery store all year round. You are bound to buy some even just out of curiosity, so why not make something delicious out of them?
Wild Custard Apple
Also known as Cherimoya, it's a sweet and creamy tropical/sub-tropical fruit. It's mostly used in South America, Australia, and Africa.
It goes great in salads, with muesli, yogurt, or ice cream. It's one of those fruits that proves that just because something is exotic does not mean it is not versatile.
Wild orange
The Wild Orange fruit is a small citrus fruit native to Australia. Perfect for jellies, jams, juices, marmalades, teas, and more. They are a must-have for anyone wishing to stock up on a nice winter food cabinet.
Like any other orange, it is sweet with a pleasant aroma and thin skin.
Wild Sugar Apple
Related to the Wild custard apple and Native to Central and South America, this relatively large fruit is a mildly sweet treat with flesh similar in texture to that of a pear.
You can eat the wild sugar apple on its own or in desserts and salads. You can also use it to make jellies, jams, ice creams, juices, chutneys, or even wines.
Wildbacher Grape
A Native of Austria, this fruit is well-known among wine connoisseurs with it being primarily used to make wine, rarely eaten on its own.
The wine produced by this grape is described as having a red berry and herbal flavor with refreshing acidity.
Wild Lime
This one is a bit different from the others. Its scientific name is Zanthoxylum Fagara, and it's not part of the genus Citrus with real limes and other fruit.
The wild lime is Native to Central and parts of South America. The part that is used is the powdered bark and leaves for spices, with an odor similar to that of limes
Final Words
Wasn't that something? Going through all the different types of fruits that start with W sure did hold some surprises for us. Some are packed full of nutrients for the immune system, some sweet and tart, and some juicy and exotic.
So next time you are out wanting to try out something new, use this list as an inspiration for what to look out for.
Tell me in the comments which fruits that start with W you want to try first.