These Vegan Dutch Oven Recipes will show you how versatile and easy to use a cast-iron Dutch oven can be! From soups, stews, curries, and even bread baking, you can make delicious one-pot meals for the whole family.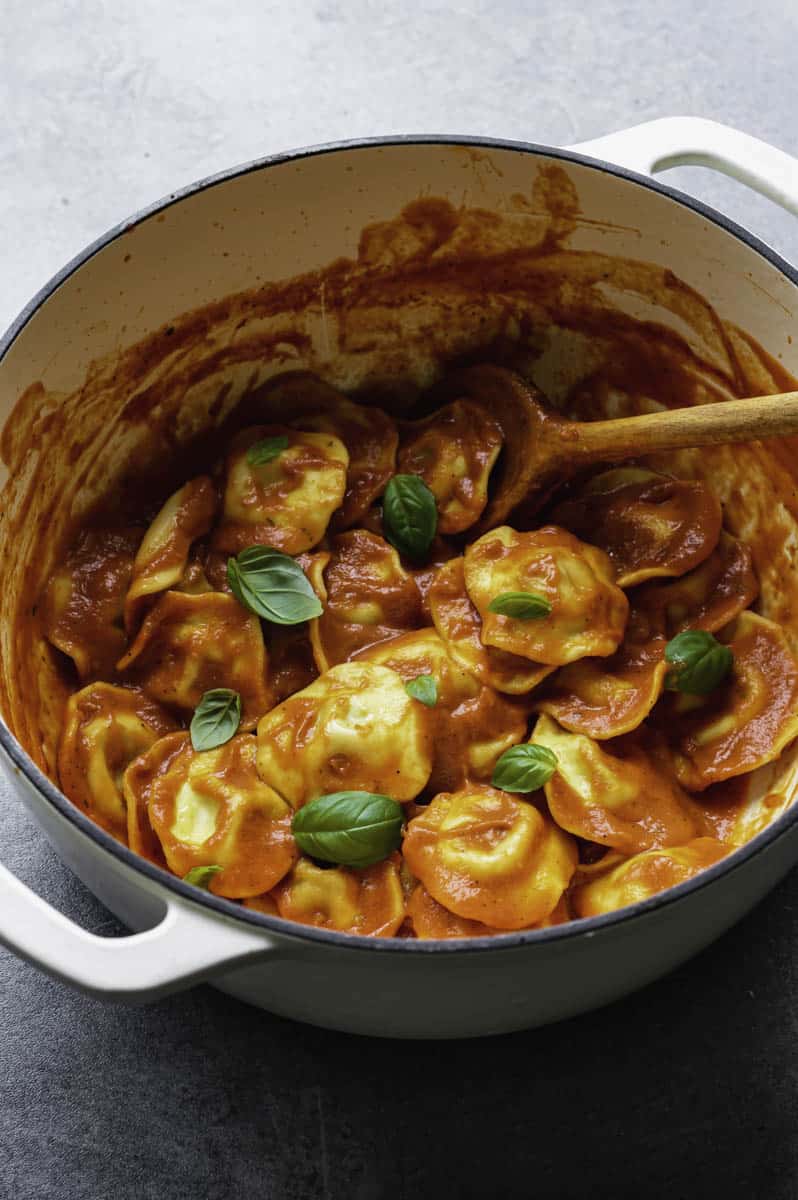 What is the best kitchen tool you can have in your kitchen? Some would say that it's an Instant pot, but I would argue that it's a Dutch oven. Why? Because you can use it for literally anything.
It can replace several kitchen tools including your slow cooker, pasta pot, deep fryer, stockpot, and even your bread maker.
A Dutch oven is a great gift you can buy someone when the holidays are approaching. Thankfully, these vegan dutch oven recipes are easy to make and perfect for people who are beginners at using Dutch ovens.
And if you're looking to buy one but don't know where to start, check out the end of the post where I've summed up my favorite brands.
Jump to:
What is a Dutch Oven?
"A Dutch oven is a thick-walled cooking pot with a tight-fitting lid. Dutch ovens are usually made of seasoned cast iron. However, some Dutch ovens are instead made of cast aluminum or ceramic. Some metal varieties are enameled rather than seasoned, and these are sometimes called French ovens." (source)
Tips for Using a Dutch Oven
Handle carefully while cooking! Both the handles and the lid can get really hot, so make sure to use heat-proof pot holders.
Let the pot cool before washing. Pouring cold water over a hot Dutch oven can cause it to crack in half. Always cool your pot before washing!
Use enough oil. A Dutch oven doesn't have a non-stick coating, so make sure to use enough oil (1-2 tablespoons at least).
If you burn food on the bottom, use this trick. To the pot, add water, 1 teaspoon baking soda, and 1 tablespoon apple cider vinegar, and stir. Heat over medium heat for 5 minutes, or until the burned food starts to peel off.
Try cooking outside. The dutch oven is a great thing to pack with you on a camping trip because you can cook on an open fire by placing it directly on hot coals. Check out this article on how to cook with a dutch oven over a campfire.
FAQ
Basic Dutch Oven Recipes
If you don't know where to start, I recommend trying one of these basic vegan Dutch oven recipes first. They're all great staples that you can make time and time again, and use in other dishes as well.
Soup Recipes
On a cold night, whip up one of these vegan soups for the ultimate cozy vibes! They're easy to make, use simple ingredients, and are packed with vegetables.
Curries, Stews, and Chilis
This section has one of the best vegan dutch oven recipes. My personal favorites are the kimchi jjigae and the garam masala curry.
Pasta and Risotto
These pasta recipes are great for a busy night when you need to put something on the table fast. They're versatile and customizable and you can use your favorite type of pasta including whole wheat pasta or gluten-free pasta.
Best Dutch Oven Brands
Okay, you've picked which recipes you want to try, but which Dutch Oven is best to buy?
Here are some of my favorites that I've tried over the years, and some which were recommended by friends.
Let me know which one of these vegan dutch oven recipes you're going to try first!