These 25 Ravioli Side Dishes are delicious, easy to make, and perfect for an Italian-inspired family dinner! From broccoli rabe and garlic bread to Ceaser salad, these side dishes are sure to impress!
Ahhh, ravioli... these pillowy, soft, and juicy pockets of goodness made with endless filling. Cheese ravioli, lobster ravioli, and even butternut squash ravioli. I want them all.
They are the perfect Italian main dish and you can prepare them with any sauce you like. My favorite ravioli recipe has to be my ravioli Pomodoro, consisting parmesan ravioli coated in a creamy tomato sauce and served with lots of parmesan cheese.
Below, you'll find more than 20 delicious, fun, and restaurant-worthy ravioli side dishes that will make everyone at the table raved about.
Jump to:
How to Choose a Side Dish Based On The Ravioli Filling
No matter how many ravioli side dishes you want to serve, whether it's one or five, the thing you should always keep in mind is the filling of your ravioli.
If you want to create a balanced and cohesive dinner table, you should take into consideration what is inside your ravioli. Is it parmesan? Is it meat? Or maybe it's spinach?
For ravioli with a heartier filling such as a beef filling, I recommend choosing a side dish that is more bright, fresh, and tangy, like a salad or roasted vegetables.
For ravioli with a milder filling such as spinach and ricotta, I recommend serving something bold, charred, and smoky, like bacon-wrapped asparagus.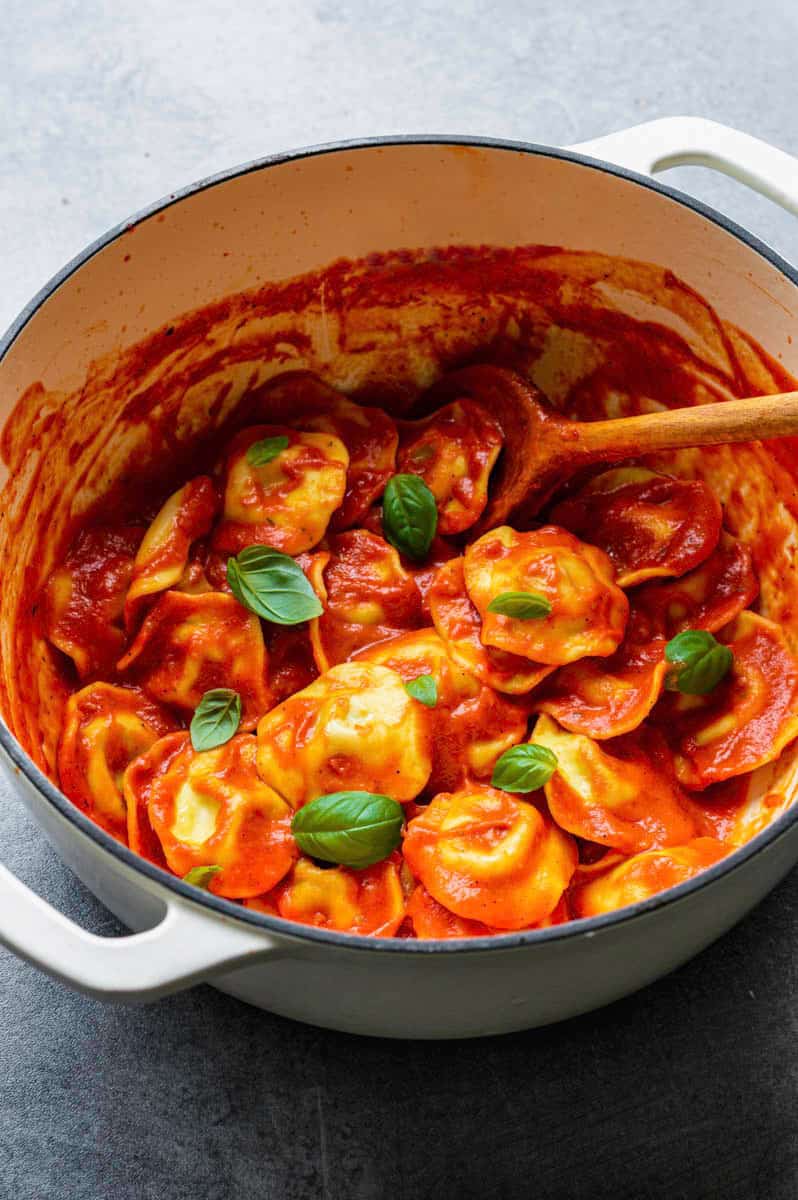 Vegetable Dishes
What's better to serve with ravioli than delicious, nutrient-packed vegetables, right? These vegetable dishes are flavorful and healthy, and most of them you will be able to make in no time.
My favorites include the balsamic brussels sprouts, broccoli rabe, and ratatouille.
Salads
A salad can be a pretty straightforward choice when choosing your ravioli side dishes, but don't expect some boring salads here, folks. I am talking hearty, abundant, bursting with flavor salads.
With any of these salad ideas, your ravioli-centered dinner is complete!
Bread
Pasta and bread are besties, especially when you have a creamy sauce that you can soak up with all that spongy bread. Making bread at home is fun, cheap, and tastes SO much better. Try it!
Polenta
Polenta is a north Italian porridge made of coarsely ground cornmeal often served with butter and parmesan. It's super easy to prepare and leaves room for plenty of fun toppings such as cheese, vegetables, or meat.
If you've never tried polenta, now is the time! In my opinion, it's a must-have when choosing your ravioli side dishes.
If you try any of these ravioli side dishes, let me know in the comments. I would love to hear which recipes are your favorite and if you think I've missed something that should be included!
More Recipes You May Like